The CPM Led secular government has set new standards in secularism.  They didnot send even a single government representative to the funeral ceremony of NSG commando Major Sandeep Unnikrishnan, a Keralite who died while combating terrorists in Mumbai. If the loss of their only son was not enough, the family of slain NSG commando Major Sandeep Unnikrishnan now has insult to add to it — courtesy Kerala chief minister V S Achuthanandan.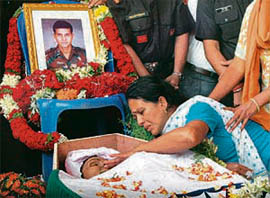 Worse he is not even apologetic for his denigrating remark. "No, no," is all he said when journalists confronted him with the question.
Earlier, Achuthanandan had heaped scorn on the family of NSG Major Sandeep Unnikrishnan  after smarting under the snub from the father of the angry officer. He said
"If it had not been (Major) Sandeep's house, not even a dog would have glanced that way," he said when turned away at the door by Unnikrishnan's father.
Now lets compare this with the treatment they gave to Known terrorist Abdul Nasser Madani. When People's Democratic Party leader Abdul Nasser Madani was acquitted in the Coimbatore serial blast case, three ministers of the Left Government turned up for the reception in Thiruvanananthapuram. There was a partial hartal in parts of Kerala when even former Iraqi president Saddam Hussein died.
Pic.: Madani being welcomed by Communist ministers MA Baby-CPM N.K.Premachandran RSP