Friday, June 19, 2009
You can get meaning of "Monkey on Back" HERE
Posted by

Panchajanya
at 2:44 PM
No comments:


A two-storeyed house being built by CPM Lalgarh zonal committee secretary Anuj Pandey and his relatives became the symbol of what the Maoists termed "exploitation of peasants" and was partly demolished. Villagers converged on the house in Dharampur, beating drums and chanting: "Come and watch how a zamindar's house made with money sucked from poor peasants is being demolished."
Then they started breaking down parts of the house. The first-floor balcony railing was ripped out, the boundary wall on the roof demolished, the marble floor dug up and all doors and windows were smashed. Pandey, along with his two brothers, owns 40 bighas in the area — an enviable possession in a district where Bengal's poorest of the poor live.
Pandey, a CPM wholetimer who earns Rs 1,500 a month, said he was building the house along with his brothers, one of whom deals in agri-products business. "The house is not yet complete," Pandey said.
"They targeted my house because I stood up to the Maoists and stopped their advance beyond Lalgarh."
With dusk descending, the villagers suspended the demolition."We'll complete it later," Maoist Lalgarh leader Bikash said.
Posted by

Panchajanya
at 8:46 AM
No comments:


Before November 2008, Lalgarh was just another obscure village, 42 kilometers from the Midnapore railway station. But if you scratch beneath the surface you would find a simmering
anger in this the poverty-stricken and tribal-dominated forestland
The state didn't wither away in Lalgarh, it just wasn't ever there. In the last 30 years, the Left Front has not built roads to connect far-flung villages, with virtually one bus plying between district headquarters of Jhargram and Belpaharai daily. Also, adjoining villages are Amlasole and Amjhora from where first hunger deaths were reported in the state, pointing to the ruling Left Front government's oppression and dispossession. The NREGA has failed to provide succor to villagers living on Ayodhya hills and in villages dotting the forests around Belpahari. Hardly any of them have got work for the mandatory 100 days.
The funds allotted to development of adivasis are regularly siphoned away by Panchayat [Read CPM] leaders. The majority of houses are still of mud and thatched roof of dry leaves while CPI (M) leaders have grossly misdirected funds allocated for Indira Awaas Yojna. Funds are distributed by local Panchayets, and people who truly need the benefits have hardly heard of the scheme, while sons and daughters of local leaders got houses. No house in the villages around has access to electricity, schools are but buildings without teachers, irrigation canals are perennially dry and the only toilets are the fields and forests.  Health Centers in the villages are at best occasionally visited by doctors and medicines are never available there.
This became ideal hunting ground for maoist who fed on the disillusionment with the laid-back and corrupt CPM administration.
It was in this background that Lalgarh captured nations attention on 2nd November when a land mine explosion targeted the convoy of West Bengal chief minister Buddhadeb Bhattacharjee and union steel and mines minister Ram Vilas Paswan as they were returning from the inauguration of the Jindal Steel Works special economic zone (SEZ) in Salboni in West Midnapore district. The Shalbani land mine explosion  resulted in hyperactivity of the police.
What began as rumblings of protest took the shape of a spontaneous mass uprising the next day. On 7th November, when the ruling CPI(Marxist) was "observing" the anniversary of the Bolshevik revolution throughout West Bengal, ten thousand Santhal men and women, armed with traditional weapons, came out and obstructed the roads leading to Lalgarh, disconnecting it from Midnapur and Bankura. Roads were dug up and tree trunks were placed on the road to obstruct the entry of police vehicles, in the same way as it had been done in Nandigram.
The English media instead of presenting the full picture has conveniently portrayed the happenings in Lagarh as Maoist movement and is trying to sweep the utter failure of communist movement under the carpet. Even by their own admission, the agitators of Lalgarh number about 40,000 people and no more than 35 armed Maoists who are camping in Lalgarh since March 2008, while very recently, another group of 10 cadres has slipped in.
It may be true that maoist are stroking the flame of discontent and disillusionment of common masses and providing leadership to otherwise unorganised protests. But it would be a huge mistake to brsch aside Lalgarh movement as Maoist movement! 
Tailpiece: It is amusing to see Members and supporters of the Communist Party of India-Marxists (CPI-M) staging a sit-in demonstration in New Delhi  to protest against the violence by the Maoists in the West Medinipur ditrict of West Bengal.
When times are bad its really bad… CPM now cannot even protest in their home turf!
Posted by

Panchajanya
at 8:31 AM
No comments:


Thursday, June 18, 2009
People destroying Berlin Wall brick by brick which led to downfall of USSR
People Destroying CPM office brick by brick. Hopefully will be end of communism in India.
Posted by

Panchajanya
at 1:37 PM
No comments: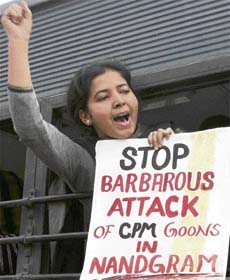 Then: CPM hunts in Nandigram
Now: CPM being hunted in Lalgarh
Posted by

Panchajanya
at 12:51 PM
No comments:


For the first time since the new wholesale price index (WPI) series started in 1995, India's annual rate of inflation turned negative, falling to minus 1.61 percent for the week ended June 6
Unfortunately, there is nothing to rejoice about this. Deflation is usually linked with severe recessions. The last time the world was in such a situation was in the 1930s and it took sustained government spending in the US and World War II to get out of it.  Deflation is caused by a shift in the supply and demand curve for goods and interest, particularly a fall in the aggregate level of demand.
Since this idles capacity, investment also falls, leading to further reductions in aggregate demand. This is the deflationary spiral.
Deflation for many people who have assets in cash, and a regular income is good news. Companies are forced to lower prices, whilst the cost of assets like a home, land, car decrease.
So how do you start benefiting from Deflation?
Make sure you simply save, and go bargain hunting.  The key is a having a steady income, whilst you save to invest in real assets that will become undervalued.
Posted by

Panchajanya
at 12:39 PM
No comments:


Monday, June 15, 2009
Posted by

Panchajanya
at 11:21 AM
No comments: