This is a photograph that everybody is familiar with, its picture of Famous Qinghai-Tibet railroad. The Tibetan antelopes and the train on the Qinghai-Tibet railroad appeared simultaneously in the eye of the camera.  This photograph was selected as one of the top 10 most memorable photographs of 2006 and its author received innumerable honors.
"The antelopes in the photograph are real.  The overpass bridge is also real.  But they were taken at two different time and stitched together using photoshop!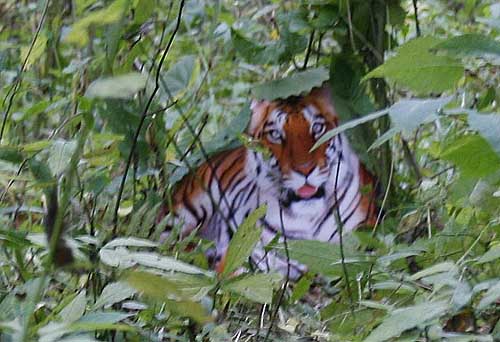 The influential America-based Science magazine published a photo which it claimed to be of a wild South China tiger, which was taken in northwest China.
The magazine quoted Gary Koehler of Washington State's Department of Fish and Wildlife as saying that "it's tremendously exciting news, if it can be substantiated".  The photograph, purporting to be the first sighting of a South China tiger for more than 30 years. The photo was chosen from 71 digital and film photos, reportedly taken by a local farmer named Zhou Zhenglong in early October in Zhenping County, Shaanxi Province.
However when a netizen broke the bubble when he posted online what he claimed was a "convincing proof" that the pictures are fakes - a New Year picture of a tiger (above) that hangs on the wall of his home!!!